Make-up Studio Jewel Effects Betoverende glitterspiegeltjes voorzien van een laagje puur zilver. Als losse poeder prachtig aan te brengen. Met de...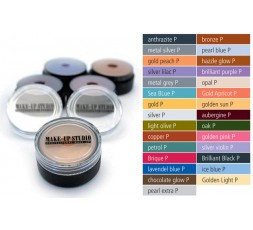 Make-up Studio Shiny Effects 4gr. Een prachtige losse glanspoeder. Kan direct op de huid worden aangebracht. Als poeder over de matte oogschaduw...
Make-up Studio Glimmer Effects 4 gr. Schitterende losse glitters voor een feestelijk effect. Met de 2-way gel kunnen de Glimmer Effects als een...
Make-up Studio Metallic Effects De Metallic Effects zijn "losser" dan de Shiny en Jewel Effects (Shine) en "compacter" dan de Glimmer en Jewel...
Make-up Studio Two-Way Gel Make-up Studio Gel voor de Shiny Effects en de Glitter Effects. Met deze gel als basis zet jij met gemak een glitter...
Make-up Studio seal it. Fixatie voor compacte en losse oogschaduw. Maakt eyeliner "tearproof". Seal-it van Make-up Studio is een ideaal product om...
Grimas Tipcrème is een helder glanzende polyethyleen glitter in een sneldrogende en gemakkelijk afwasbare geltextuur. Het wordt gebruikt voor onder...
Grimas Polyglitter is glanzende losse glitter voor diverse grimeer doeleinden. Werkwijze: Polyglitter kan met behulp van de vingers, een Make-up...
Kryolan Sieglor-sealer 100ml. Een transparant vloeistof die gebruikt wordt over wax, putty, latex en foam om deze te sealen. Hierna kan make-up...
Pupa Luminous Bas & Glitter - Eyes and Face Light Up The Night Een cremige oogschaduw en sprankelende bijpassende glitters in een mooie...