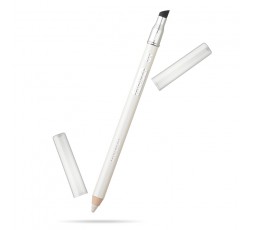 Pupa Multiplay Pencil. Kohl, eyeliner en oogschaduw: één potlood dat op drie verschillende manieren kan worden gebruikt. Dit multifunctionele Pupa...
Pupa Made to last definition eyes Er is geen beter product voor het creëren van de geometrische 'catwalk' ooglijnen dan de: Made to Last Definitie...
Pupa Made to last waterproof oogschaduw stick De nieuwe waterproof oogschaduw van pupa. Zeer eenvoudig aan te brengen dankzij de handige 'twist-up'...
Pupa Antitraccia foundation. Een ultra comfortabele, veegvaste foundation. De nieuwe generatie Pupa foundations die geen strepen achterlaat: een...
Pupa Diva's Lashes Mascara Extra Black Pupa Diva's Lashes Mascara Extra Black 3 stuks voor € 25,- Bestel nu, want de actie-voorraad is beperkt,...
Handige spatel voor het hygienisch gebruik van make-up.Lengte 6 cm.
Tyro Speciale Dag- en Nachtcreme E 50ml. Een weldadige, voedende gezichtscrème voor gelaat, hals en decolleté. Rijk aan vitamine E, een...
Pupa True Eyebrow Pencil De hele dag perfect gevormde wenkbrauwen. Dit Pupa wenkbrauw potlood is zacht en eenvoudig te blenden met de natuurlijke...
Pupa Eyebrow Plumping Gel - wenkbrauw-gel Nieuw in het Pupa assortiment is deze wenkbrauwgel. Hij geeft volume aan de wenkbrauw. Voor vollere en...
Dr. Massing wimperserum Dr. Massing wimperserum is een serum wat helpt de eigen wimpers te laten groeien. Hierdoor heb jij geen wimperextensions...
Alle beste verkochte producten
Aanbiedingen
Make-up Studio Penselenset Pro 32 De meest complete penselenset die er bestaat met een selectie van maar liefst 32 make-up penselen in een prachtig...
Uitgebreide professionele penselenset, 19 penselen, in prachtige etui. Het etui bevat de volgende make-up kwasten en penselen: 01 poederpenseel 02...
Make-up Studio Make-Up Case London. Mooie robuuste aluminium koffer van Make-up Studio. Deze koffer bestaat uit drie compartimenten en een losse...
9-delig professionele penselenset in prachtige etui.Bestaande uit de volgende make-up kwasten en penselen: 01 poederpenseel 02 rougepenseel 05...
Make-up Studio oogschaduw Box XL Natural Bliss Met dit prachtige 16-kleurige oogpalet transformeer je jouw natuurlijke look eenvoudig naar een...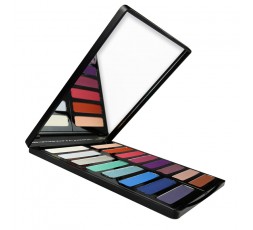 Make-up Studio Eyeshadow Box XL Rainbow Haze Dit kleurrijke palet is ideaal voor als je een nieuwe look wil proberen. Rainbow Haze bevat een mooie...
Make-up Studio glitters
Er zijn 6 producten.
Make-up Studio Jewel Effects Betoverende glitterspiegeltjes voorzien van een laagje puur zilver. Als losse poeder prachtig aan te brengen. Met de...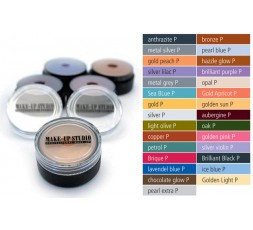 Make-up Studio Shiny Effects 4gr. Een prachtige losse glanspoeder. Kan direct op de huid worden aangebracht. Als poeder over de matte oogschaduw...
Make-up Studio Glimmer Effects 4 gr. Schitterende losse glitters voor een feestelijk effect. Met de 2-way gel kunnen de Glimmer Effects als een...
Make-up Studio Metallic Effects De Metallic Effects zijn "losser" dan de Shiny en Jewel Effects (Shine) en "compacter" dan de Glimmer en Jewel...
Make-up Studio Two-Way Gel Make-up Studio Gel voor de Shiny Effects en de Glitter Effects. Met deze gel als basis zet jij met gemak een glitter...
Make-up Studio seal it. Fixatie voor compacte en losse oogschaduw. Maakt eyeliner "tearproof". Seal-it van Make-up Studio is een ideaal product om...